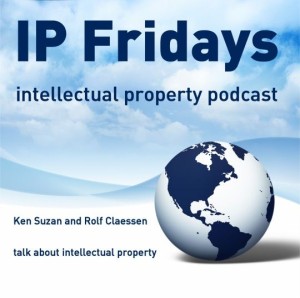 This time we talk about our own ways into intellectual property and also we chat about protection of wearable technology.
Subscribe: Google Podcasts | Email | TuneIn | RSS | More
Please leave your comment below!
IP FRIDAYS
Co-Presenters:
Rolf Claessen and Kenneth Suzan
Episode 10 – September 5, 2014
RC =   Rolf Claessen
KS =    Kenneth Suzan
This is Jeanine Percival Wright, the Director of Legal Affairs for Intellectual Property and Litigation with True Religion Brand Jeans in beautiful Los Angeles, California. You are listening to IP Fridays. Thanks for the great podcast guys.
KS:      Hello and welcome to this episode of IP Fridays.  Our names are Ken Suzan and Rolf Claessen and this is THE podcast dedicated to intellectual property.  It does not matter where you are from, in-house or private practice, novice or expert, we will help you stay up-to-date with current topics in the fields of trademarks, patents, design and copyright, discover useful tools and much more.
RC:      Welcome back to another episode of IP Fridays.  We are very happy that you tuned in to this episode and today we are actually talking to you about ourselves.  A lot of our listeners requested us to tell more about ourselves — like how we got into the IP field, and what we actually do, and just a little bit more background and then also we are very happy that Mondaq, a popular news site in the legal field, has picked up our podcast and more about that later on and also Ken tells you about recent trademark developments in the wearable technology field. 
So, first we want to tell you more about ourselves.  So maybe I will ask you first, Ken, when you first started school you first picked up history and political science in 1989 and so why did you pick this and why did you then move into law?
KS:      Well, when I went to the University of Rochester, I always knew that history and political science were the things that I enjoyed most.  We could go back to high school days, I think social studies, and English and writing were always some of my favorite things to do so it was sort of a natural fit.  I enjoyed the programming as well as the academics at the University of Rochester and that was my joint major.  When I went to college, I also knew that I wanted to become a lawyer the whole time so it was sort of a natural progression that developed.  I indeed did then go on to attend Albany Law School of Union University located in Albany, New York.  I loved school so much, that I continued on to NYU School of Law for their LL.M. program in Trade Regulation and I focused on trademarks, copyrights and Internet law while attending there.
RC:      Yes, you got your JD from Albany Law and then an LL.M. from NYU so that's really exciting because both are really prestigious schools.
KS:      Well, it was great to go there.  I learned a lot and made a lot of great connections and friends and it was an interesting time.  You know, the Internet was really getting going in the sense that the law was changing.  I had written about music distribution on the Internet actually back in 1995, so that goes way back since we're almost coming up to 2015, so that's a long, long time ago to a certain extent, but at the same time there has been a lot of water under the bridge and I am excited to keep going.  I really love IP.
RC:      So we nearly could have met in Albany because I attended SUNY Albany.  I think I came there in 1997, so I just missed you by one year.  I got my PhD in chemistry there after first getting my undergrad degrees in Germany in Tubingen and Wolfsberg.  So that is interesting.  We already, of course, know each other for a couple of years now so we exchanged the best pubs in Albany already.
KS:      That is definitely true.  It is great that our paths crossed but that they continue to cross to this day.
RC:      So, just for our listeners who might know Albany, New York, what is your favorite pub in Albany?
KS:      I remember going to a place called Ralph's.  It's a favorite hangout for the students at Albany Law School.  I guess there I also had a few chicken wings — I remember that was a big thing then as it was in Western New York where I spend nine years of my career.
RC:      Yes, I think my favorite pub at that time was Mahar's.  It was a beer pub where they had like 300 different beers and you could earn like different trophies if you had so and so many different beers.
KS:      With respect to beers, were they as good as what you have in Germany?
RC:      Well they also had German beers on tap.  They also had excellent U.S. beers, for example, the Black Chocolate Stout from Brooklyn I think or something like that.  That was one of my favorites.
KS:      That's good to know.  Rolf, I have a question for you.  I know you are involved in something call JCI.  Could you tell our listeners what that is and why you are involved with that?
RC:      Yeah, that is a volunteer organization that basically either owners of companies or, you know, upper management members of companies that are under 40 they can engage in this organization and we ourselves try to be active citizens and we are working very closely together with the U.N. to achieve their millennial goals.  For example, eradication of malaria, and so we are working on a couple of goals together with the U.N. and we also have our own goals, for example, we have tons of chapters in Germany, we have about 12,000 members and a couple of chapters in Cologne, my home chapter we have around 100 members and we have local projects like a street ball tournament for underprivileged children in difficult areas of the city or, for example, every year we are rebuilding a childcare facility somewhere in Cologne and all these kinds of social projects basically.
KS:      That's wonderful.  What brought you into IP?  Similarly, you asked me and I am curious what was it that led you to the wonderful world of intellectual property?
RC:      So, after my PhD degree in chemistry from SUNY Albany, I went back to work for a nanotechnology startup company.  It was a spinoff of the Bayer Corporation in Cologne, Germany and I was working closely together with a patent attorney who was taking care of the patents of this particular firm and he was always smiling and happy and writing big invoices and driving a big car and so at some point I found out that the startup company would go bankrupt in a couple of months, it was basically foreseeable, and then I asked the patent attorney how to become a patent attorney because he always seemed really happy and I was really interested in patents and he really made me excited about this topic basically and then he told me and so I started to become a patent attorney.  So in Germany it works the way that you have to be basically a slave for a certified patent attorney for three years, working for a very low budget, a very low salary, and then you work for free for one year for the German Patent and Trademark Office without any salary for ________________ and after that you take your exam and then you are free, if you pass, you are free to be a certified patent attorney in Germany.  And then, of course, the salary is not so bad and, yeah, that is what I do now.  So I really enjoy the work.
KS:      Well that is really great.  You know, podcasting unites us together twice a month.  What is it about podcasting that you like?  I know you started with Markenpod.  You had talked to me a number of years ago while I was at an INTA meeting and that piqued my interest.  What do you like about podcasting?
RC:      Well, first of all, I really like to tell people, you know, make them excited about this topic and Markenpod, my first German language podcast, was directed to not really to trademark professionals but to basically, for example, company owners or startup companies who couldn't afford a patent attorney or trademark attorney, and just tell them about the topic and how important trademarks are and I really like to teach people about certain subjects.  So, for example, I am also a lecturer at the University here in Cologne and I really enjoy just telling people about subjects.  And then I really found fun in recording these podcasts and getting feedback and it really didn't do anything for my business, the Markenpod, so far, but it was just fun and then I thought why not extend it to a wider audience by making it in the English language and maybe changing the target audience to be trademark professionals or IP professionals and general patent professionals and copyright professionals so I asked you whether you would be interested to start IP Fridays.
KS:      Now, since you handle a lot of the technical aspects of the recording and that type of thing, is this something that you found easy to learn or how did you go about doing it and being that you know you are an attorney and you don't spend many hours of your week mastering the fine points of audio recording?
RC:      Well, I really have to give credit to Cliff Ravenscraft.  He is the Podcast Answer Man.  You can just use GOOGLE and find Podcast Answer Man or go to www.podcastanswerman.com and he has a really helpful podcast and I really enjoy his podcast, especially the first couple of episodes where he really goes into the details like how to, you know, set up your recording programs, what microphones to choose, and really talking about all the technical details that you need to know to record podcasts.  So, that was really helpful to listen to these kinds of podcasts and, yeah, that was just learning by doing basically.  So, you know, the first couple episodes of Markenpod were really like not really professionally recorded and you could hear that but you know it becomes better and better every time.
KS:      Sure.  Well, I am enjoying working with you Rolf on IP Fridays and look forward to hearing from our listeners on feedback.  We always want to hear from you as to maybe topics you want covered or if you would like to be a guest on the show.  We look forward to hearing from you in the coming weeks.
RC:      Right, for our listeners especially. Yes, for example, yes, if the listeners want to be covered.  Yes, of course please let us know.  You can go to www.ipfridays.com/feedback and leave us your feedback and, for example, if you want to leave a short statement like, "Hi, this is so and so and I am with the firm so and so and you are listening to IP Fridays," just go to www.ipfridays.com/feedback and you can leave a voicemail and we will use this small sound snippet in the very beginning of each podcast episode and you will be able to hear your own voice.  So feel free.
KS:      That sounds great.  We like to make it interactive.  That's one of our goals so that is a great idea to mention to our listeners. 
            Rolf, this has been great learning more about you and having the dialogue so that listeners can know more about us.
RC:      Yeah, sure.  Actually, I wanted to learn more about your career within the IP field.  First, you started out for a law firm called Gibney, Anthony & Flaherty.  Is that correct?
KS:      Yes, in New York City.  Right out of law school I worked for them and focused on anti-counterfeiting matters.  It was also a mixture of trademark infringement and trademark prosecution and that was my first start and I am still in touch to this day with the great attorneys over at that firm.
RC:      And then you moved on to Norton Rose Fulbright, a really big firm, a New York firm.
KS:      Actually across the street at the time.  I went from one side of Fifth Avenue, from the east side of Fifth Avenue over to the west side of Fifth Avenue.  That was my second position while I worked in New York City.
RC:      Any then you stayed with Hodgson Russ for a long time.  For nine years.
KS:      Yes, then I went to the northwest quadrant of the great state of New York and worked for Hodgson Russ for nine years where I became a partner with the firm there and continued my developing practice in intellectual property law.
RC:      And then you moved to Minneapolis.
KS:      Yes.
RC:      I mean it was probably the same temperature so you were used to that.
KS:      A lot colder, but less snow — although that has been changing over the years now.  I am now with Barnes & Thornburg here in the Minneapolis office and focus on trademarks, copyrights, Internet, and social media.  I am currently following really two other areas that are of interest to me.  One is food trucks and the other is wearable technology.  I believe that these are two entrepreneurial areas that require IP protection and it's something that fascinates me greatly.
RC:      Yeah, we will hear about this later on, right?  You will tell us more about this wearable technology and protection in this field.
KS:      Yes, I actually have an article that will be coming out in the next few months.
RC:      Right, so why don't we let our listeners know more about Mondaq and how we got into this?  Do you have the background?  I think you were mostly responsible for this, right?
KS:      Yes, actually I worked through our marketing department and we discussed the programming with the folks at Mondaq and they are interested and now they include a link to the podcast, as well as the transcript, on their Website and it has been great to partner with them and to have our content distributed to their readers and listeners.
KS:      So Rolf, tell me a little bit about yourself…where did you start, what was your first job, and take me to where you are today.
RC:      Yes, after I went to the startup and then I thought about becoming a patent attorney, I started my career in that same firm.  It was ______________.  Some people may know this firm.  I became a partner with them pretty quickly and then after a while I switched gears to another firm which I am with now.  It is Patent Attorneys Freischem and you will find a link at www.ipfridays.com.  I am a partner with them since 2010 when I switched to this firm and I am really happy here.  I am the only chemist so I have no conflicts at all with chemistry patents but also do a lot of trademark prosecution.  Basically, we are a medium sized law firm here and we are managing about 4,500 trademarks for various small and medium sized and some big clients.
KS:      Do you have clients all throughout Europe?
RC:      Right.  Our client profile is mostly domestic.  I would say maybe at least ¾ of our revenue comes from domestic clients and we also have some international clients and, of course, our domestic clients file all over the world.  So that is my current business basically.
KS:      Great.
RC:      Ken, you already told us in the beginning that you are now moving into the field of wearable technology and you are working on new strategies or concepts on trademark protection in this field.  So, can you tell us more about this?
KS:      Yes, Rolf, I have been following the news of wearable technology.  There isn't a day that goes by where I don't hear about a new device – whether it be something to wear on your head, or glasses, or bands.  There are items for pets and babies and I am very interested and intrigued by non-traditional trademarks which we talked about not too long ago on IP Fridays.  I am looking at ways to protect trademarks from a perspective of whether it be sounds, scents, shapes, all of the things that are different from just the word or slogan and I view this as a possible way to potentially in the future, as the devices acquire secondary meaning, to protect various attributes of the devices in connection with trademarks as another way to distinguish the devices from others in the marketplace which is competitive and will continue to get even more competitive as people latch on to the popularity of devices.  You know, phones, mobile phones, smart phones are very, very important these days to people no matter what business you are in and to me it seems like a natural fit between wearable technology and mobile technology.  I see this as being a great area for trademark practitioners, for patent practitioners, and for attorneys in all fields to follow and monitor.  Because I think that is where we are heading, I take note of large retailers who are opening up sections in their stores labeled "Wearable Technology."  So they are taking a close look at what is happening and they are dedicating areas in their stores to these types of products and I think we are going to hear a lot more about it as the years go on.
RC:      So what are the most interesting aspects with wearable technology, for example in the trademark field, probably is it the 3D shape trademarks or color trademarks, or what?
KS:      Yes, 3D shapes, the color — I think sounds also play an important role.  We don't look at sounds but these devices are going to emit all sorts of sounds that are going to be used in various ways.  There may be startup sounds, shutdown sounds, sounds to indicate particular things, and so I think this is just another thing that we need to look at and be mindful of.
RC:      And, of course, there will be overlap between, you know, design protection and three-dimensional trademark protection.  What would you recommend to applicants in this field like which way to go or should they do both design patent protection and try to get a 3D trademark, or what would you recommend?
KS:      I think a lot of it depends on the circumstances and also how long the particular design has been used.  Obviously, we have to deal with non-functionality as well as acquired distinctiveness but you are the patent expert.  What do you think about the patent issue with respect to wearables?
RC:      Well, in Europe, designs are not really considered patents, so they are a completely different type of protection in Europe or probably the rest of the world.  Besides the U.S., patents are only technical inventions and wearable technology certainly has a lot of really important technical aspects that can be protected and they are probably the functions of these devices need to really adapt to being worn on the body and a lot of processes have to be different and people have to find different technical solutions especially, you know, when using the interfaces with these wearable devices.  They will have not really screens anymore but maybe I don't know maybe they will just make something in the glasses that you are wearing or, I don't know, maybe they will emit different sounds so then you will know an email arrived and you can press different keys, I don't know, the user interface will be very different from regular devices.
KS:      I think in the medical community wearables are very important.  You know, you can see the popularity of the Fitbit device and other things but I think doctors in the future and healthcare practitioners will be better able to keep tabs on their patients and to look at data in a real time manner with Bluetooth technologies and other ways to get data over to doctors or nurses, I think it is remarkable and the sky is the limit to where we can go with that.
RC:      Yes, I think so.  I think it is a really interesting field and I think maybe you have to give me your insights.  I will ask you in six months about your experiences and maybe I can translate that into advice for my European clients.
KS:      I would be glad to.
RC:      Alright.  So we have recorded quite a while now and it is time to wrap up this episode.  We are very glad that you have listened to this new episode of IP Fridays.  Feel free to leave us feedback about our CVs and ourselves and wearable technology and any topic that we have covered today in the comments or as a voice feedback or an email.  We will be happy to feature you on one of the upcoming episodes with your questions and if you really like our show, you are invited to go www.ipfridays.com/love and it will prepopulate a Tweet and tell the world that you love IP Fridays.  If you are listening to this on an iPad or iPhone or any other iOS device, you can go to www.ipfridays.com/itunes and subscribe to us or leave us a review.  We would be really happy about that.  If you are listening to this on any other device, also cars for example, you can download a device called Stitcher, that would be probably the most convenient way in your new BMW car, or I think Ford also has Stitcher now, or Android devices or any other smartphone, Windows as well.  You can download Stitcher and search for IP Fridays and subscribe to us as well. 
            So, this is all that we have to say today.  Thank you very much for tuning in.  Ken, do you want to leave any closing remarks?
KS:      Well Rolf, it is always a pleasure to talk to you and to learn more about your practice and we hope to continue to educate our listeners as the weeks go on, on IP Fridays.  We hope that you enjoy the programming and we look forward to hearing your feedback.
RC:      Bye-bye.
KS:      Take care.
KS:      That's it for this episode. If you liked what you heard, please show us your love by visiting ipfridays.com/love and tweet a link to this show. We would be so grateful if you would do that. It would help us out to get the word out. Also, please subscribe to our podcast at ipfridays.com or on iTunes or Stitcher.com. If you have a question or want to be featured in one of the upcoming episodes, please send us your feedback at ipfridays.com/feedback. Also, please leave us a review on iTunes. You can go to ipfridays.com/itunes and it will take you right to the correct page on iTunes. If you want to get mentioned on this podcast or even have comments within the next episode, please leave us your voicemail at ipfridays.com/voicemail.
You have been listening to an episode of IP Fridays. The views expressed by the participants of this program are their own and do not represent the views of nor are they endorsed by their respective law firms. None of the content should be considered legal advice. The IP Fridays podcast should not be construed as legal advice or legal opinion on any specific facts or circumstances. The contents of this podcast are intended for general informational purposes only and you are urged to consult your own lawyer on any specific legal questions. As always, consult a lawyer or patent or trademark attorney.
Copyright 2014
All rights reserved.